Yoonla is a website that promises to help us build the ultimate digital lifestyle.
At this stage, I am not entirely sure exactly what that means, but it's definitely something that I want to know more about.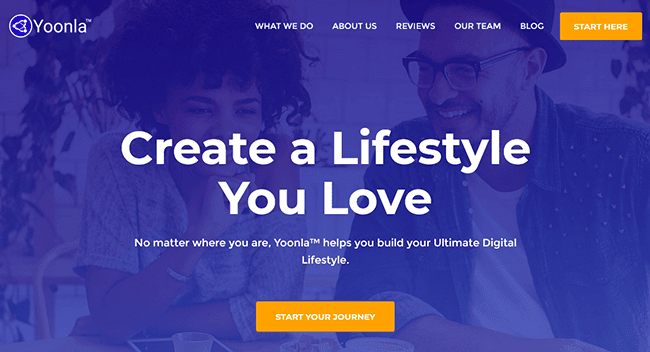 So let's take a closer look at the recently revamped program and find out what we can expect from the 'ultimate digital lifestyle' that is being promised to us in my Yoonla review.

What Exactly Is Yoonla?
Launched in September 2016, Yoonla was created by Reno Van Boven – an online entrepreneur with over 12 years of experience.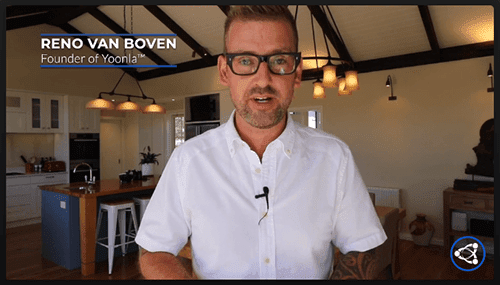 From the Yoonla website itself, it's difficult to determine exactly what the ultimate digital lifestyle is.
It obviously points to earning an income online in some way, but that right there is my first area of concern with the Yoonla website…it doesn't explain the 'how'.
That's not such a major problem because it is free to set up a Starter Account with Yoonla, so to learn anything about what the program has to offer, you need to hand over your contact details.
Inside The (Free) Yoonla Starter Membership
First things first, I have to say the process of setting up a Starter account at Yoonla is straightforward and doesn't alert me to any scam techniques being deployed.
With my details all confirmed in a matter of minutes, I'm given full access to the Yoonla members' area.
There's nothing to be concerned about here. In fact, it's all rather clean and well-formatted.
There are, however, very obvious attempts being made to encourage me to take the 'Free Priority Setup & Elite Upgrade' offer that is valued at $297.
I'm not interested in that just yet, but I will be checking it out later.
My focus right now is on the intro video and 7 steps that are so neatly laid out on the left-hand side of the menu.
Let me give you a brief overview of those steps before putting everything in a nutshell and explaining the Yoonla process.
Don't worry if anything in the steps below confuses you. I will simplify everything shortly.
#Intro Video
A very nice introduction from Reno, who explains a little bit more about Yoonla.
He explains how over 1.2 million people joined the program in its first phase, and how transparency and honesty are the name of the game at Yoonla.
This all sounds great, but I'm still unsure about what I will be doing.
#Step 1: Evolve App & Commission Tracking
Still no explanation about the Yoonla process, but in this step, I am instructed to download a zip file. Reno calls it the 'Evolve App', but I can tell these are the necessary files to create a website squeeze page.
#Step 2: Create Automation Account
Once again, Reno chooses his own terminology to explain this part of the process. An "automation account to automate the digital revenue streams" is actually an autoresponder called 'GetResponse' and to use this you need to pay a monthly fee.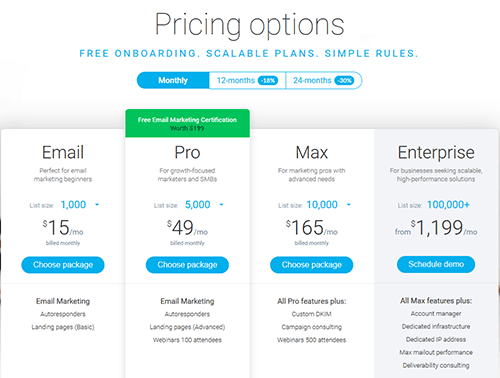 Reno says you can pick any option, but says the $15 per month option is fine to get started.
That's great, but at this stage, you've agreed to pay $15 per month and you still don't know what you will be doing.
#Step 3: Setup Automation Account
This step is all about setting up your GetResponse account. The emphasis is on ensuring it is done correctly, and that you set up a copy & paste welcome email.
#Step 4: Create Small Business Account
Another specific use of words from Reno, and this time he is actually referring to setting up a website hosting account with Yahoo.
He advises that you opt for the advanced account at $3.99 per month. It would appear that Yahoo has since increased their prices as that particular account is now $5.89 per month.
Reno also explains how to set up a domain name to use in conjunction with your squeeze page and hosting.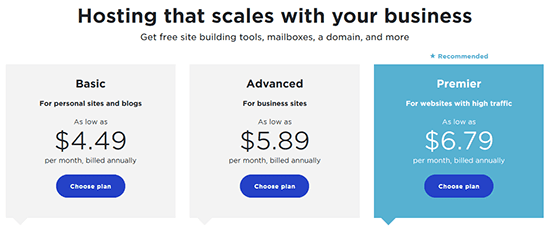 I noticed here that despite the cost being displayed as a monthly charge when you get through to the payment screen it automatically defaults to paying for a full year upfront at $82.46.
In the step 4 video, Reno doesn't mention that it can be changed from yearly to monthly, but you can do so by clicking on the link highlighted below.

So this brings your current costs to $15 per month for your autoresponder at GetResponse, and $82.46 for your yearly website hosting at Yahoo.
#Step 5 Get Your Evolve App Online
This is the most complicated step of the process. It involves using an FTP program to upload your squeeze page to your website hosting at Yahoo. Reno goes over the steps in great detail.
#Step 6: Customize Your Evolve Site
With your 'Evolve App' uploaded to your hosting, step 6 explains how to make minor changes to the wording on your squeeze page.
#Step 7: Activate Your Evolve Funnel
Step 7 is the final step of the process, and all you are required to do here is to confirm with Yoonla that you have completed the 6 previous steps.
Once you have completed the confirmation form, Reno and his team will activate your squeeze page funnel and personal affiliate link within 24 hours. Once activated, you can start earning commission payments.
You are also promised a series of bonuses which Yoonla claims will increase your earning potential.

Now that's a lot of information for anyone to take on board – especially if you are new to making money online.
So I will now explain the process in a way that (hopefully) makes a bit more sense.
The Yoonla Process…Simplified.
By completing the 7-step Yoonla process, you will have a one-page website (a squeeze page) that will allow you to collect email addresses from your visitors. You can see the squeeze page below.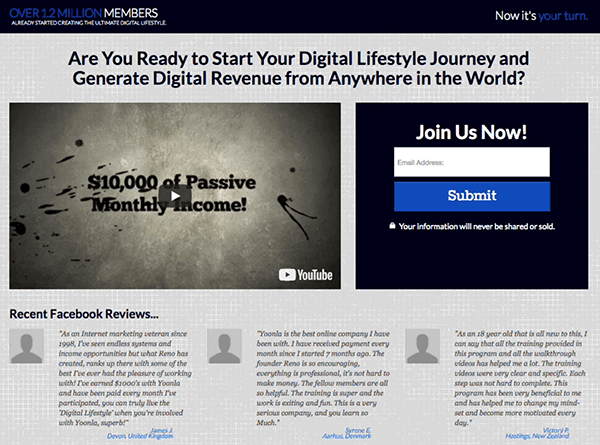 You will then send a series of emails to your subscribers (using GetResponse) mostly promoting just one program – YOONLA – in an affiliate marketing kind of way.

It's also worth noting that your website will be exactly the same as the one used by the current 1.6 million Yoonla members.
Remember that you can only get your website up and running if you complete the steps exactly as Reno suggests.
So that means…
Paying $15 per month for your GetResponse account.
Paying $82 for a year's worth of hosting at Yahoo.
And you must use Reno's affiliate links for those services.
Furthermore, you cannot set this up on your own hosting or with a different autoresponder service (for those of you with some online experience).
The Reality Of Yoonla
As an experienced affiliate marketer myself with over 10 years of experience, I've spotted a number of things at Yoonla that give me a reason to be concerned.
Issue #1: High And Unexpected Setup Costs
The majority of people joining Yoonla will not be expecting to pay at least $97 before they get their 'digital lifestyle' business off the ground.
That's also before they even fully understand exactly what they will be doing.
Issue #2: The 'FREE' Upgrade Option

By the time you reach step 7, it's very likely that you will be confused about the Yoonla setup process.
That's where the 'Free' Elite upgrade comes into play, and it's likely to be very appealing to those with little or no experience.

By accepting the upgrade you get the first 6 steps of the process completed for you by Reno's team. As mentioned earlier, parts of it are confusing so most people won't hesitate to upgrade.
This also allows Reno and the Yoonla team to ensure your squeeze page is set up correctly.
Remember: you will only be promoting Yoonla via your squeeze page, so it's essential they make sure it is set up correctly.
But there's more to it than that…
This also means that Reno and his team can make sure you use their affiliate links to buy the services required to make Yoonla work.
And once upgraded, you are then encouraged to use a number of other products and services that generate further affiliate commissions for Reno and the Yoonla team.
At the end of the day, this is how affiliate marketing works. Someone makes a recommendation using their affiliate link, you decide to buy, and they get a cut of the sale.
There's nothing wrong with that, but it just doesn't feel right within a program that claims to be the world's leading digital lifestyle platform.
The Yoonla website is basically a funnel system that filters people into a number of products and services that ultimately generate as much income as possible from its members.
Issue #3: Yoonla Contradiction

On the Yoonla website and introduction video, Reno explains that trust and transparency are what makes this opportunity so popular and trustworthy around the world.
One particular point he makes is that "there are no fluffy stories of earning $1000's or any of those false, misleading guarantees". At the time, I found that statement very refreshing.
Yet when you get to watch the upgrade video, Reno, for the first time, mentions what others are earning at Yoonla.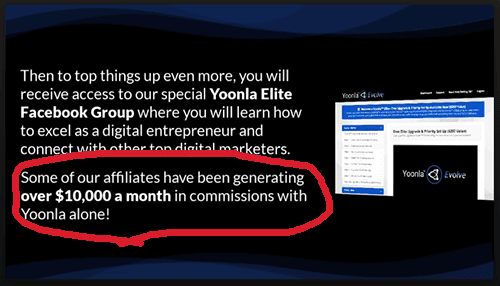 There's further evidence of this on the squeeze page that every Yoonla member uses to promote the program where an embedded video suggests $10,000 of passive monthly income can be earned at Yoonla.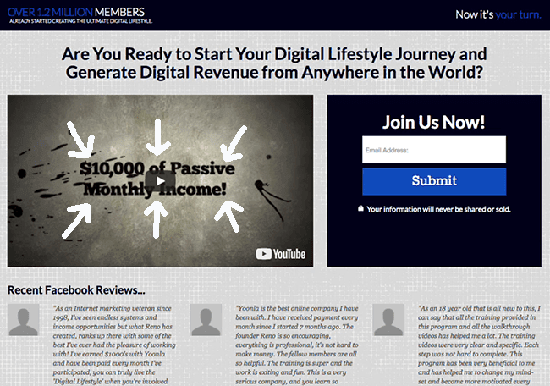 This means all new members of Yoonla have no choice but to make earning promises to others on their squeeze pages that are unrealistic.
Furthermore, they also have no idea if or how these earnings are possible.
Issue #4: I Believe The Yoonla Process Is Morally Wrong
With the above points in mind, Yoonla is funneling people into a system where they have to pay to advance and make money.
It then tells them to do exactly the same to others.
That, in my opinion, is unethical.
Consider an average person trying Yoonla for the first time. Let's say a stay-at-home mom looking to earn some extra cash online.
One day she has no online experience at all…and the next day she is telling others (via her squeeze page) how they can earn $10,000 per month online.
Maybe it's just me but I don't think it's right to put new members in that position.
Issue #5: Yoonla Reminds Me Of…
Digital Altitude and The Empower Network.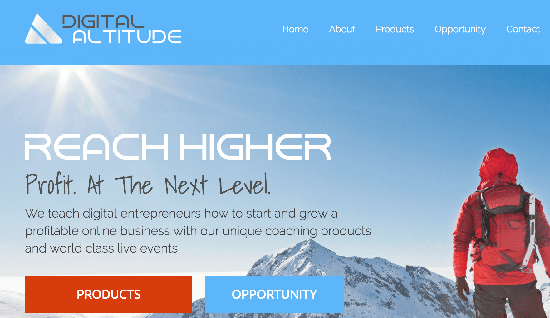 If you've never heard of Digital Altitude, it was a program fronted by a successful marketer called Michael Force.
The website was extremely professional, but from the minute you joined, you didn't really know what you would be doing.
Eventually, you would discover that to make money you simply had to promote Digital Altitude via a bunch of inaccurate promises.
And to increase your earnings…you would have to pay to advance through the program.
The same can be said of The Empower Network.
You also had to pay to advance through the program and recruit new members into your downline to increase your earnings.
Both Digital Altitude and The Empower Network are no longer in existence.
Digital Altitude was closed down by the FTC for a whole host of unethical practices, and The Empower Network went bankrupt in 2017.
Whilst Yoonla isn't a direct copy of these proven scams, there are a number of worrying similarities.

As Reno has changed the structure of Yoonla in the past, it's my opinion that he should consider the outcomes of Digital Altitude and The Empower Network when making any further adjustments to the Yoonla process.
Should You Trust Yoonla?
That is down to you.
You have my personal opinions about why I think Yoonla is unethical, and how you have to almost deceive others to make money.
Yoonla did show some really encouraging signs early on, and Reno comes across as a really nice guy.
But having completed this Yoonla review, I now feel disappointed by what I eventually discovered about the Yoonla process.
Does This Mean Yoonla Is A Scam?
I personally don't recommend Yoonla for the following reasons:
You have to hand over your money (Step 2 – open a GetResponse account) before you even know what you will be doing.
You cannot make any money unless you activate your Evolve funnel or upgrade to Elite for 'free' (both options actually costs you a minimum of $97).
It's an entirely unethical way to make money (to me).
Are There Any Alternatives To Yoonla?
There are plenty of legitimate ways to make money online with a website, and if that appeals to you then you might want to read about my online journey and the one program that helped me to earn a regular income online.
Don't expect overnight riches with my recommendation…but do expect total transparency, honesty, and a process that is legitimate and doable.
Do you have any experience with Yoonla? If so I would love to hear your thoughts in the comments section below.
Marcus – WFHW