Today seemed like being my lucky day when I opened my email and read about a new make money online product called 'Easy Money Machines'.
Word has it that the creator has some pedigree, and with the website suggesting I could be earning as much as $1000 – $2500 per money machine, per day, I had no choice but to take a closer look.
Easy Money Machines Review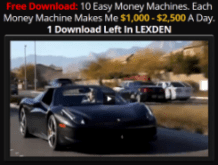 Name: Easy Money Machines
Website: easymoneymachines.com
Program Type: Making money ($5000+ per day) online
Price: $47
Owner: Michael Fox
From the off, it's not easy to tell exactly what this program is all about, but one thing is very clear … if you want to find out, you've got to sit through a rather long video.
When I say long, I mean really long.
All in all, you will need to set aside at least an hour, and in that time you still don't get to fully understand what you are getting involved with.
The video itself is more of a story, where the Easy Money Machines creator – Michael Fox – explains how rich you will become when you start using his program.
The $ figures he mentions are very high yet he constantly emphasizes how easy the process is.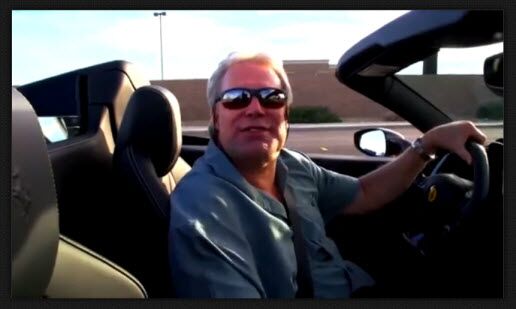 It's a very well scripted video with a number of real-life testimonials on hand to show how well the program has worked for them, from the luxury of their high-performance sports cars and million-dollar houses.
You just cannot help but feel that this is all too good to be true, especially when Michael sets up an Easy Money Machines account in front of you and then logs in a few minutes later to discover a few hundred dollars have been earned.
Uncovering The Easy Money Machines Process
After an hour or so of watching the video, I finally reached the point where Michael attempts to close the deal.
For someone who claims to charge his clients over $2000 per hour, he's definitely putting his neck on the line by charging just $47 to turn anyone into a millionaire (his words, not mine).
Or is he really taking a huge risk?
On reaching the point where I have to either pay and join or leave the website, I decided to leave to see what happens next.
I am met by an 'exit popup' – a way of checking to see if you really do want to leave and it's usually accompanied by a discount.

I closed the page again and again through 2 more discounts until I reached this:

Man … this REALLY must be my lucky day! Michael's going to make me a millionaire and it won't cost me a penny!! (Tongue firmly in cheek)
I continue to push forward to get to the root of the Easy Money Machines program and after a strange shift to a new page, I am asked to enter my email details.
I am then told I will get 5 Easy Money Machines for free but don't worry … these will still earn me $1000's per day.
The Easy Money Machines Mist Clears…
After entering my details I was told to pick just 1 of 5 niche topics pre-selected for me personally. The choices were: internet marketing, music, weight loss, muscle building, and dating.
I am told that I will get all 5 but need to pick 1 to get started.
Take note: these are 5 VERY broad niche topics and if Michael Fox thinks these equate to potential Easy Money Machines then I have to say that I disagree.
By selecting a niche you are then advised that you need a website, and more importantly, hosting.
It is then advised that you choose the longest possible hosting package because it will increase your income.
I disagree with that point.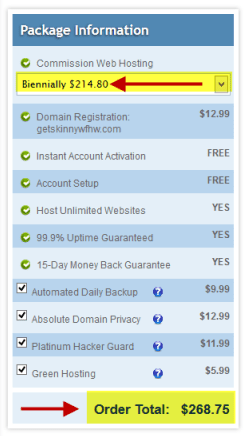 The reason why you are advised to opt for a long-term hosting package is that you will pay more, meaning Michael Fox will earn more from you through his hosting affiliate link.
In case you don't know, this is called a 'hidden upsell', and it's a method used to get more money from a customer than they expected.
Over to the right, you can see that the hosting page has auto-filled so that I have a 2-year service, totaling $268.75.
So in the space of 10 minutes, Easy Money Machines has gone from being a $47 product to being a free product, to finally being a product that will cost me $268.00 just to get started.
At this point, and for obvious reasons, my investigation of the Easy Money Machines program came to an end.
I had seen everything that I needed to see to understand exactly what this program is all about and it wasn't great.
But for the benefit of anyone who might still be tempted, there's one further point that I need to mention … the follow-up emails.
Within 24 hours of handing over my details I received the following email from Easy Money Machines: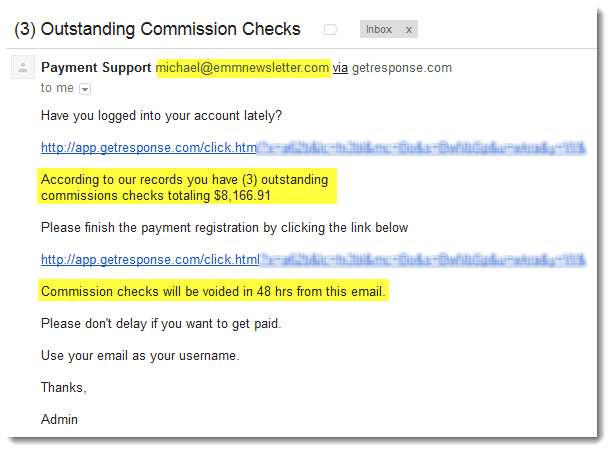 I hadn't promoted this program to anyone (and never will), so why or how could I possibly earn over $8000 for doing absolutely NOTHING? Of course, I haven't.
This email and the many others that follow serve just one purpose … to force you into opening an account and paying unnecessary amounts for an unproven system.
To prove that point, when I clicked on the link in the email I was taken to a video where Michael, once again, asked me to pay to join – despite the fact that I got the product for free!
The Reality Of Easy Money Machines
What this program lacks most of all is clarity and transparency.
Within the video, Michael constantly reminds us of how easy it is to set the program up and earn $1000's dollars a day, yet he doesn't tell us what we will be doing until payment is made or you fight your way through his popups and get it for free.
This is one of the most obvious signs that you will eventually part with more money than you are willing to spend. My investigation eventually proved that to be true.
Striping things back to the bone, this is all about building a website and profiting from products, services, and ads that you promote on it. This is not groundbreaking in the slightest … this is affiliate marketing and people have been doing it for years.
As for Easy Money Machines itself … if Michael had said he can teach you how to build a website earning some extra cash and one day, with effort, you would earn enough to quit your job, he would have definitely received a more positive review from me.
But sadly he didn't.
Pro's:
Cons:
No idea of what you will be doing until you pay or join for free.
Inflated earning claims without proof.
The initial price is $47 yet you can eventually get it for free.
Once you join you are immediately hit with a bill for over $260.
More 'hidden upsells' are included further into the program.
Emails from Michael are varied and get you spending money.
Do you have any experience with Easy Money Machines? If so I'd love to hear your thoughts in the comment section below.
Marcus – WFHW