*UPDATE April 2019*
Emobile Code has recently been closed down by the FTC. Click Here for all the details.
Another day and yet another mobile-related product hits the make money online market.
But hang on…the format of Emobile Code is very similar to other products that I have reviewed recently, so similar in fact that it's almost like reviewing the same program over again.
Is this something that I should be concerned about?
Or is it that Emobile Code really is the amazing cash-generating system that the website suggests?
It's time to dig deep into emobilecode.com to see why this program is getting so much exposure and attention.
Emobile Code Program Details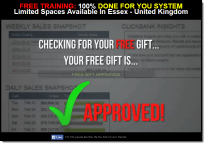 Name: Emobile Code
Program Type: Making money from websites targeting mobile advertising
Price: Stated as $49 but with MANY upsells
Owner (portrayed to be): Bill McKnight
My first impressions of the Emobile Code website are that there's nothing to do other than sit through a well-scripted video explaining how the system works, how much money can be made, and personal success stories from those who have apparently tried the system.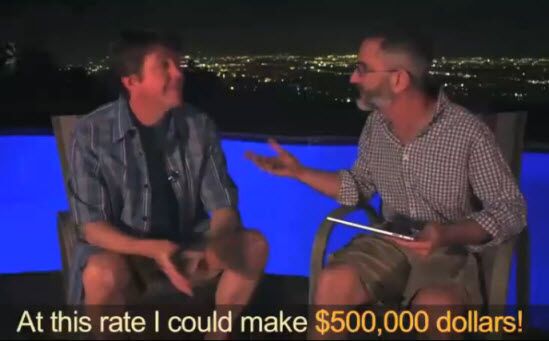 And at 1 hour 15 mins long, the video covers every possible reason to NOT try the program and then concludes with the usual run of bonus offers that make it a no-brainer for those who sit through the entire video.
But don't worry if you don't have a spare 75 mins to get all the detail because I did have the time and will explain exactly what the Emobile Code program is all about.
What Exactly Is Emobile Code?
Emobile Code is a program that builds turnkey websites on broad niche topics. Basically, if you join the program you will be creating the exact same websites as everyone else who buys into the program.
As explained in the video, the core component of the system is email marketing. So, if you've never tried email marketing before then expect to have to do it from the start when you join.
The Emobile Code system is one that bases exposure to your website via smartphone users.
They also say that their mobile-friendly websites are optimized for smartphone users, but as an experienced website builder, I can tell you that it's dead simple to make a website smartphone-friendly – especially if you use WordPress.
Once your website is built you then create a sequence of emails where you promote related products to anyone who is willing to hand over their name and email.
This is where and how your income is generated using the system.
The Reality Of The Emobile Code System…
Let me cut to the chase and explain what will happen if you hand over your details and pay the initial $49 to try this system.
Oh and let me just mention that according to Bill McKnight in the video, the $49 is to cover the support team who "need to get paid!".
Structuring things in this way, he is able to say that the Emobile Code system is technically "Free" – very smart!
Ok…I'm paid up. After browsing through the various options in the clean-looking member's area, I've highlighted below the areas that I am concerned about: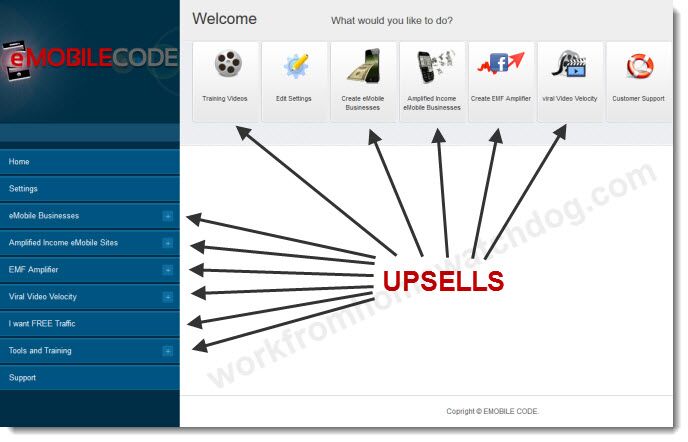 In a nutshell, you cannot get this program off the ground without spending more money.
And if that doesn't worry you…the amounts you could potentially spend WILL.
As soon as you join you are required to buy domain names and hosting for your website(s). The Emobile Code system suggests they can get you a deal on these but they will still cost you $100's per year.
You are also required to have an autoresponder for email marketing. Without it, the Emobile Code system will not work.
Even if you already have your own autoresponder service you are required to use the suggested program, which of course will mean further costs.
It costs you $1 for a 2-week trial, then $19 per month, and could eventually cost up to $120 per month.
Upon joining you are also offered a support call, but the reality of that is you will be sold various upsells on advanced training which can run into the $ 1000s.
Oddly enough, the training included "for free" with the program is very basic and will leave newbies baffled.
Various other upsells are included to spice up your Emobile businesses, all of which cost you more money and create a number of monthly recurring payments out of your bank account.
There is even an upsell to a very similar product!
The facts are there for all to see…if you invest fully in this program, you will likely need to spend $1000's upfront and will have regular payments leaving your account each month.
Furthermore, this process of making money is completely dated.
Making money online is not about putting thin websites up and bombarding people with emails where you promote poor products to them. The Emobile Code method might have worked in 1990…but not today.
If you want proof, take a look at the program I've been using to build websites for over 10 years and you will quickly realize the many differences between a product like Emobile Code and one that actually works.
My Final Thoughts On Emobile Code
I genuinely believe that the earning claims made on the Emobile code video are unrealistic ($2000 – $5000 per day).
Factor in the unannounced costs that you will face once inside Emobile Code and I can only say that this product becomes something that you are simply not expecting.
I therefore advise that you avoid this program.
If you came here before taking the Emobile Code plunge then arm yourself with the scam factors that so often raise red flags for me and use them to assess the next work from home opportunity that you come across.
Do you have any experience with Emobile Code? If so I would love to hear your thoughts in the comment section below.
Marcus – WFHW