DFY Hero 2.0 has landed and it's being widely regarded as a game-changing program that removes all the challenging aspects associated with building a powerful online presence.

No matter what niche, industry, or reason you might have for wanting to build a piece of virtual real estate, DFY Hero 2.0 promises to make the whole experience as stress-free and lucrative as possible.


The promises don't just stop there because, on the face of it, DFY Hero 2.0 makes it almost impossible to ignore the potential that it offers.

But are the claims being made as powerful as they seem? Or are the bold promises masking a product lacking in quality?
Today in this DFY Hero 2 review we are going to look at what's really has to offer.
You can then decide for yourself if it really is worth your time, effort, and money.
Let's take a closer look at what DFY Hero 2.0 is all about!
What Exactly Is DFY Hero 2
And How Does It Work?
Product Name: DFY Hero 2.0
Product Type: Online business and website creator
Product Creator: Cindy Donovan
Product Price: $29.97 per month or $47.00 per month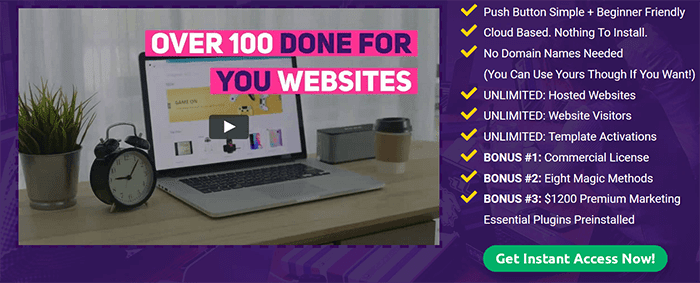 Looking initially at the DFY Hero 2.0 website, it's clear to see that Cindy Donovan (product creator) is very confident about her product.
And why shouldn't she be!
DFY Hero 2.0 is focused on addressing an age-old problem within the online world – how to build top-quality websites in the quickest possible time.
After all, a ton of time can be wasted when creating a website – particularly if you are new to building the foundations of an online business.
One thing that I like about the DFY Hero 2.0 website (and other websites that apply the same strategy) is that it fully reveals what's on offer upfront.
For many years now it has almost been acceptable for product owners to hint (at best) as to what their product is about.
That approach should always raise a red flag as it's indicative of being a scam once you hand over your cash.
The more "upfront" guys are starting to turn the tide by being honest and transparent upfront, and that is exactly what you get with the DFY Hero 2.0 website.
Under The DFY Hero 2.0 Hood
Put simply, DFY Hero 2.0 is a simplified website builder that allows you to create WordPress websites/webpages and have them hosted for free.
When I say simplified I mean the DFY Hero 2.0 process is largely made possible by a very popular WordPress plugin called Elementor.


This plugin creates a drag and drop environment which makes it easier to put together a modern website than you would ordinarily struggle to make with the standard WordPress editor.
Let me be clear here and say that without Elementor, DFY Hero 2.0 would not be as powerful as it seems from the outset.
Elementor does the majority of the heavy lifting associated with making a website look good, and it's this plugin that DFY Hero 2.0 is dependent on in both the cheaper and more expensive purchase options.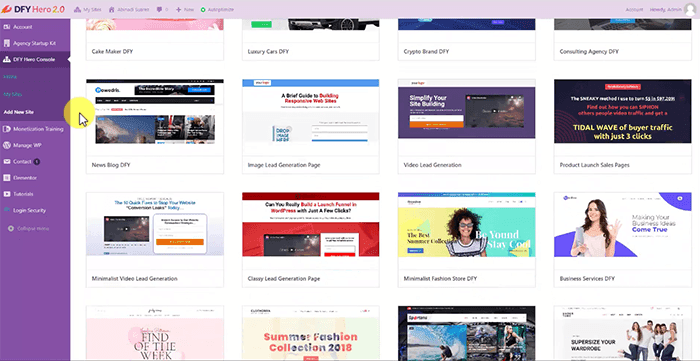 At the core of DFY Hero 2.0, we also have the themes for the websites.
The demo video focuses on the speed at which the beautiful websites are built, and although the build time is impressive, the website theme still has to be edited to suit your needs. That is the time-consuming part.
And yes…the editing is done using Elementor.
Now while my description of DFY Hero 2.0 in this section might seem negative, it's not intended to be that way.
The program still creates exactly what it says in double-quick time, but that is largely due to the themes and editor which are available for free when using WordPress.
What's Included With DFY Hero 2.0?
One of the stronger elements of this program is the DFY Hero 2.0 interface that brings everything together.
It really is a few clicks of a button to create a website or webpage, and the DFY 2.0 Hero team has done a great job of making it as easy as possible to do so.
There are also many training resources included to help you through the process of building your website.

As mentioned at the start of this review, there are 2 levels of membership at DFY Hero 2.0 – Starter and Deluxe.
There are important differences between the 2 levels. First up, is the Starter membership…
And here's what you get with the Deluxe membership: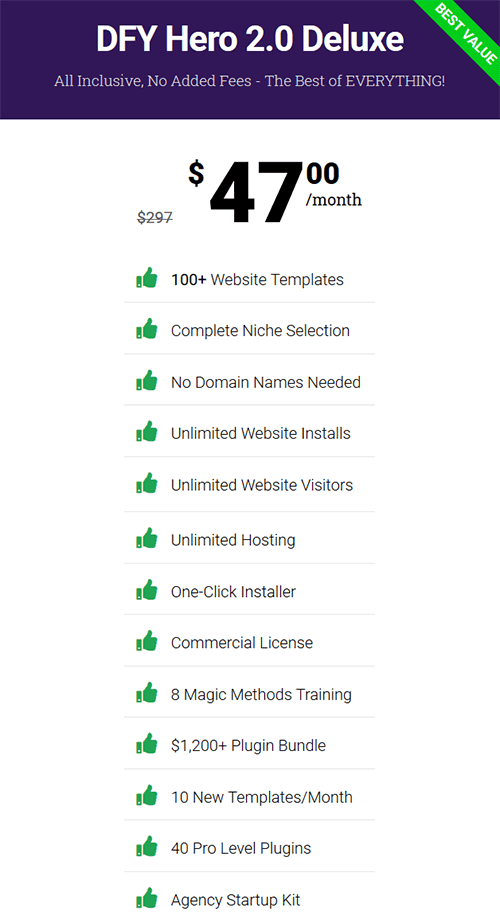 Are There Any Additional Costs?
The are no additional costs as such but there is a significant difference in cost between the Starter and Deluxe memberships, as highlighted above.
I think that most people should begin with the Starter membership to get a feel for the service before upgrading to the Deluxe option.
One of the main differences with the Deluxe version is that you get the Pro version of Elementor. This is something that you can do outside of DFY Hero 2.0 with your own WordPress website.
But the difference between doing it solo compared with doing it through DFY Hero 2.0 is that by going solo you are restricted as to how many websites you can build.
With DFY Hero 2.0, you can use Elementor on an unlimited number of websites.
Who Is DFY Hero 2.0 a Good Fit For?
Without a doubt, DFY Hero 2.0 is most suited to newbie marketers – and here's why.
If you have some experience building websites, you are very likely to have already used Elementor – you might even own the Pro version.
As an experienced marketer, you are also likely to be competent with taking a WordPress theme and quickly editing it to suit your requirements.
You are also likely to have your own powerful hosting package and wouldn't want to host websites (for free) on the DFY Hero 2.0 sub-domain.
If anything that I have said above leaves you scratching your head…you are likely to gain the most from DFY Hero 2.0 because its focus is on simplifying things that you would find complicated.
DFY Hero 2.0: My Final Thoughts.
DFY Hero 2.0 is a very well-put-together program.
It does a great job of simplifying tasks that newbies are likely to find complicated and gives them a platform to build and house their website creations.
But as an experienced marketer myself, there is very little about DFY Hero 2.0 that appeals to me – simply because I can already do what it can do, in the same amount of time.
The most important decision a newbie will have is which membership level should they choose if they join?
I can only advise the Starter membership to get a feel for what's on offer and to get to grips with Elementor.
Only then would you be able to make an informed decision about if you can justify spending $47 per month on the Deluxe membership option AND profit further from it.
And even then, it has to be said that when DFY Hero 2.0 is compared directly with one of our most recommended programs that offers a more comprehensive training program with a free entry-level membership, it doesn't really stand out as absolute value for money.
Do you have any experience with DFY Hero 2.0? If so I'd love to hear about your experiences in the comment section below!
Marcus – WFHW