The Bulletproof Method is a product that makes some rather bold claims that I am keen to investigate.
Not only does it suggest that a non-skilled person can start generating $105 per day within 24 hours, but it also says this method has NOTHING to do with affiliate marketing!
The very name itself implies that the creators have total confidence in their product. Or are they just blowing smoke?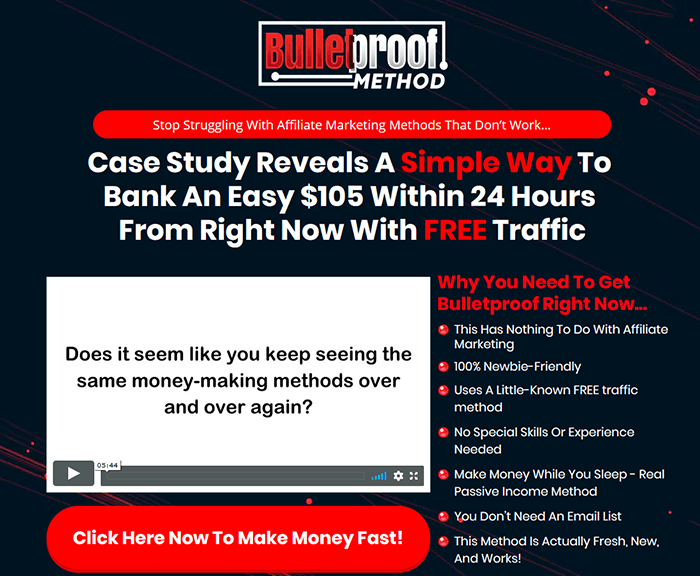 In this unbiased review of the Bulletproof Method, we are going to analyze everything on offer so that you can decide for yourself if it's right for you.

Oh and don't expect a huge pack of bonuses at the end of this review to convince you to buy (no matter how good or bad the product might be).
There are no bonuses here. Just an honest Bulletproof Method review.
Let's go!

What Exactly Is The Bulletproof Method And How Does It Work?
Product Name: Bulletproof Method
Product Type: Pay Per Call (a variation of affiliate marketing)
Product Creators: Anthony Mancuso and Paul Nicholls
Product Price: $12.95 (Earlybird price)
Total Cost Of Upsells: $238.00
The Bulletproof Method is the creation of Anthony Mancuso and Paul Nicholls – the same guys responsible for a product I recently reviewed called The Compoundly Method.
Straight away I can see similarities between the Bulletproof Method and Compoundly Method websites (not necessarily a bad thing).
Firstly, both websites are clean and professional. The layout and structure of each are almost identical with a focus on earning screenshots and a promise that you can be making money within 24 hours.
But the big difference between the two programs/methods is that The Compoundly Method is all about affiliate marketing, while the Bulletproof Method states that affiliate marketing is a dated and difficult way to make money.
There are no further clues on the Bulletproof website as to what you will be doing, but the promise of being newbie-proof is something that will appeal to anyone looking for a unique and proven way to make money online.
The Bulletproof Method In a Nutshell
Put simply, the Bulletproof Method is a product that teaches you how to make money from pay-per-call marketing.
In other words, you advertise a service and ask the reader to call a specific phone number for more information. If/when they do, you get paid a commission.
Anthony and Paul state that this is not affiliate marketing per se, but if you have any affiliate marketing experience, you will be at an advantage when it comes to setting up a pay-per-call campaign.
But given that The Bulletproof Method requires you to promote the products or services of others, albeit, through a phone call, that then leads them to a webpage where you recommend products as an affiliate, then this definitely IS a variation of affiliate marketing!
The Bulletproof Method focuses on finding the best pay-per-call opportunities at OfferVault, which (ironically) calls itself "The go-to source for affiliate marketers".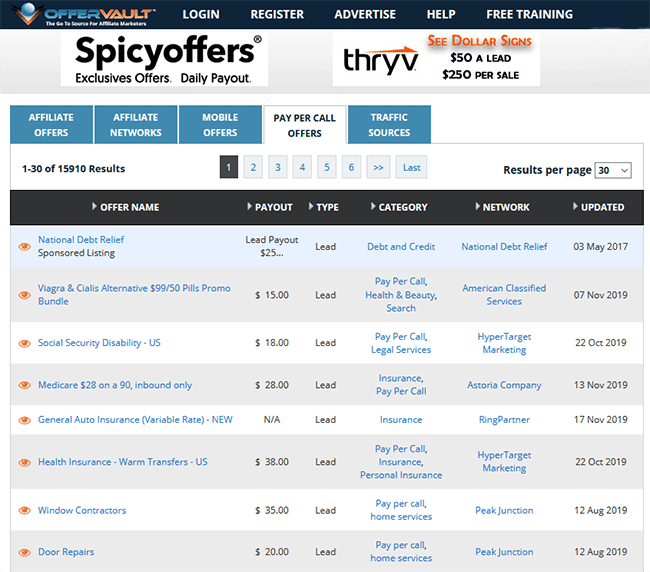 The Bulletproof Method process is all about getting your offers in front of as many people as possible.
This involves building a niche website for your pay-per-call promotions and driving traffic to that from various social networks, Blogger and Tumblr pages that you create, citations, and YouTube videos provided by the BulletProof team.
The entire process is covered in detail with the Bulletproof Method training videos.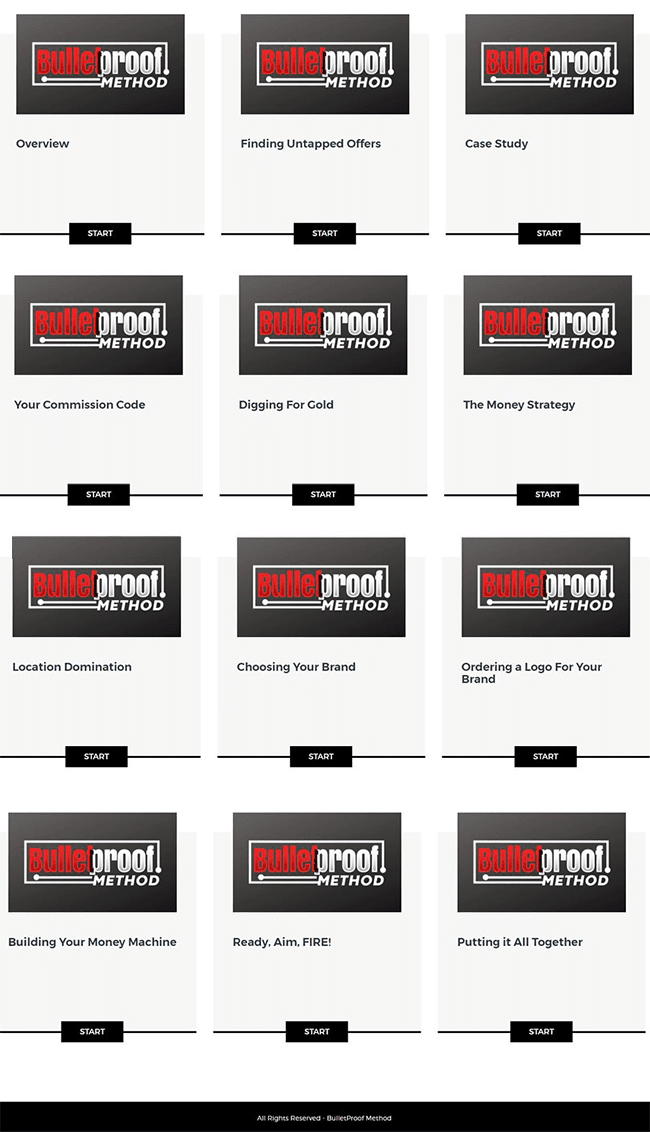 It's important to add here that as the Bulletproof Method system is effectively about funneling visitors to your promotion, there is some work required on your part – particularly when it comes to setting up your website and funnel pages.
That is why experienced affiliate marketers will have an advantage with the Bulletproof Method.
Are There Any Bonuses With
The Bulletproof Method?
There are 3 bonuses included with the Bulletproof Method.
Bonus #1 – $1952.80 in 48 Hours case study
An over-the-shoulder example of how the Bulletproof Method team set up a pay-per-call promotion that made almost $2000 in 48 hours.
Bonus#2 – Traffic Powerpack
4 alternative ways to generate traffic to drive to your Bulletproof Method campaigns.
Bonus #3 – The fastest way to $1000 online
A step-by-step guide on how to generate $1000 online quickly.
Are There Any Additional Costs?
At the start of this review, I mentioned the total cost of the upsells with the Bulletproof Method total of $238.00. The breakdown of those costs is as follows…
Upsell 1 – Bulletproof PRO Version $37

Bulletproof PRO promises you will work less, get more free traffic, and 3x the profits.
Upsell 2 – Bulletproof 'Done For You' $67
This upgrade removes the 'trial and error' associated with setting up new campaigns and provides you with a series of proven 'done for you' campaigns.
Upsell 3 – Bulletproof 'Case Studies Pack' $37
An over-the-shoulder series of case studies revealing campaigns that have gone from zero to profit.
Upsell 4 – Full Reseller/License Rights $97
Full reseller/license rights to sell the Bulletproof Method as your own product and keep 100% of the commissions.
What Are Others Saying
About The Bulletproof Method?
Wading through all the bonus-packed biased reviews of the Bulletproof Method, there are very few real examples of how this has worked for people.
It's a similar story across the many make money online forums. Many think it's great and many don't. That's completely normal.
The key point here with the Bulletproof Method and any other make money online product is…if it fails with its promise, people generally go out of their way to categorically prove why that is so.
There are no genuine reports of that nature regarding the Bulletproof Method. That is a positive sign.
The Bulletproof Method:
My Final Thoughts.
Pay-per-call is nothing new but it is a method that works.
What Anthony and Paul have done with the Bulletproof Method is to put a modern spin on it and prove that it's profitable.
The training is comprehensive and very well put together. The inclusion of case studies and over-the-shoulder training proves that these guys care about delivering a worthwhile product.
If the Bulletproof Method appeals to you, just be mindful of the potential costs of the upsells and ongoing running costs before diving in.
If you've never heard of pay-per-call before, the Bulletproof Method will teach you everything you need to know and show you how to profit from it.
You can visit the Bulletproof Method website here.
Have you tried the Bulletproof Method? If so, share your thoughts below!
Marcus – WFHW