Government liquidation…where does the idea and stock come from? Is it a legitimate website?
Well having done a little digging into govliquidation.com, it's time to share what I have learned.

I think I should also shed a little of my perceived background on government liquidation auction sites, so let's step back a few years…
To go back to when dropshipping and wholesale buying was a fairly new concept to us all, I believe it was the embracing of the dropshipping business model that in turn inspired the eBay home business revolution.
From those first eBay stores grew an enormous opportunity …one seized upon by fast-moving, forward-thinking companies such as Liquidity Services.
And to answer 1 question right now…Government Liquidation IS a legit site.
Who Owns The Government Liquidation Website?
Liquidity Services own the government liquidation website. Their aim is to provide government and surplus stock to the public and get maximum return for their assets.
They do this cleverly using a multi-channel sales strategy that leverages the leading online marketplaces.
Since its foundation in 1999, Liquidity Services has established itself as the leading, global surplus goods marketplace. Here are some impressive stats:
$2.2 Billion Gross Merchandise Volume
1.6 Million Unique Registered Buyers
12.2 Million Total Auction Participants
2.8 Million Completed Transactions
116 Countries Served by Buyer Base
3,800+ Government Agency Sellers
1.3 Million Square Feet of warehouse space in 6 facilities
So we have learned quite quickly that the owners of the website government liquidation are specialists in selling government surplus equipment and that govliquidation.com is just one string to their bow..
How does govliquidation.com work?
At Gov Liquidation they sell in some fairly varied categories, including aircraft parts, woodwork machinery, medical equipment, foodservice equipment, and ALL usually in multiples.
Sold lots include live horses from the cavalry, a steam train, and even furniture from the Pentagon!
So not your run-of-the-mill type, but rather all types of unusual items, some of it you can't even buy if you aim to ship it outside of the USA!
There are basically 2 types of sales events, internet auctions, the concept of auctions at eBay I'm assuming you are familiar with, the second is a sealed bid sale, where all bids submitted in a sealed bid sale are, well … "sealed".
That way you are encouraged to only submit your best and final offer. There is a handy event calendar that you can look over to see if there are lots that you are interested in coming up.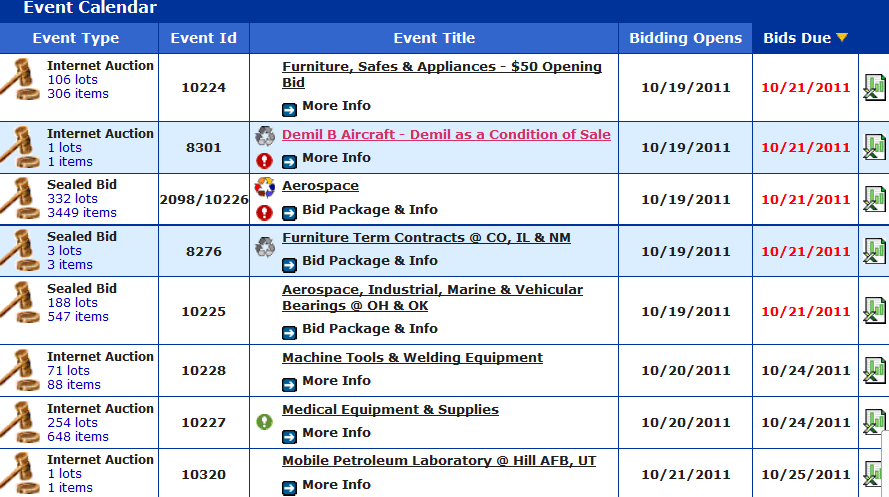 Government liquidations stock is stored at 214 locations across America, usually close to or on US airbases.
You are able to locate liquidation surplus bases in your preferred state on the govliquidation.com website. The bases list what lots are available and the current bid status.
Because of the pure nature of the lots available, it's highly unlikely that govliquidation.com be visited by the regular homeowner looking for a bargain to stand in the corner of the lounge, so you are best to stick to eBay for those types of household items.
I see the proprietors of small start-up businesses and wholesale suppliers of what can only be termed as "unusual" items would be bookmarking the website of govliquidation.com.
That being said If I had the space at home I'd certainly be bidding on the pizza oven that has caught my eye ;)
Working from home with Government Liquidation
There is an opportunity to earn affiliate commissions with govliquidation.com.
Affiliates earn their commissions on completed transactions that were directed to the website through your links and for each new member that you send to govliquidation.com through your banner or text link you also get $1.
Affiliates don't have to be living in the US, however, your checks are paid in US dollars so there may be a small fee to deposit your commission cheques in a non-US bank.
Seeing that a big number of the lots are "fairly large" the sale prices are often in the $5K to $6K region but the downside is that the commission paid is only 1%, meaning for a $6000 sale referral you would only receive $60.
Make no mistake…GovLiquidation.com should NOT be mistaken for liquidation.com.
This short Government Liquidation review ends on the note that, if you trust the lot description and are happy to bid without smelling what you are buying, or if you can market or are in the market for some ex-military service trucks or fitting out a factory or offices with surplus government equipment, govliquidation.com will be your cup of tea.
I think that there certainly are some great deals to be had at government liquidations, but it's not for the mainstream… but then maybe that works out just great for you and your niche!
Tony – WFHW