Today is one of those rare days where I get to post something positive about an online scam that has been ripping people off for a number of years.
This fantastic news comes courtesy of the Federal Trade Commission (FTC). They are one of the few official bodies that have the power to officially investigate online scams and legally bring the perpetrators to justice.
So today I am happy to report they have done exactly that to not just one online scam…but also to a whole bunch of similar scams that share a common connection.
This ruling could well be a turning point and it fires a warning shot in the direction of other online scams that I believe are all operating in a similar fashion.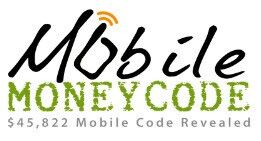 So, the main program being called out by the FTC is Mobile Money Code – a program that we reviewed here at Work From Home Watchdog.
Our conclusion was that Mobile Money Code was a scam that tricked people into thinking they could earn fortunes online by building mobile-friendly websites.
The FTC's investigation named 3 individuals who they said were responsible for the entire 'mobile code' scam operation.
Following on from their investigation, the FTC concluded that Mobile Money Code deceived consumers by falsely claiming they could earn big money working online by using products marketed as "secret codes."
In addition, the FTC also discovered a number of other programs that were exactly the same as Mobile Money Code and were created by the same individuals.
Those programs are: Auto Mobile Code, Easy Cash Code, Full Money System, Secret Money System, and another program that we have reviewed called eMobile Code (read review here).
The FTC's investigation named 3 individuals who they said were responsible for the entire "mobile code" scam operation. They were: Ronnie Montano, Hyong Su Kim (also known as Jimmy Kim), and Martin Schranz.
All 3 are widely known within the make money online industry and the FTC claims they each played integral roles in creating the scam.
Learn more about the individuals and their roles in the FTC report here.
The above individuals agreed to a $7 million judgment, with $644,000 being refunded to customers who purchased Mobile Money Code or any of the associated programs.
The FTC announced in March 2019 that refunds were now being sent out to Mobile Money Code customers.
In addition, Montano, Kim, and Schranz have agreed to a permanent ban on marketing or selling certain types of software/programs online, including using email to promote products.
Decisions like this make my day.
Not only will 1000's customers get the refunds they rightly deserve…it should also deter others from creating blatant scams that are designed solely to rip people off.
Click Here to read the FTC's announcement about refunds to Mobile Money Code customers.
Click Here to read the full FTC report.
Marcus – WFHW